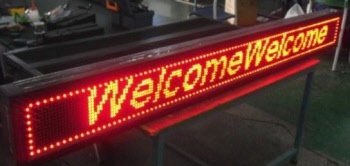 LESS™ LED Energy Saving Systems
MAKE STREET TRAFFIC YOUR TRAFFIC
Is your business missing in action along your street? Is it passed, unnoticed,by thousands of motorists each day due to an inadequate antiquated or missing sign? Without adequate signage your business is losing money. An electronic message center cost less per month than any other major advertising media. A Led Electronic Message Center supports your media effort by reinforcing your message at the point of purchase. Your message reaches each customer that stops or passes by your location everyday. Using an Led Message Center means instantaneous advertising and quick reaction to change that can influence customers.
Our company has had a tremendous uplift in business since installing our led sign. The Small Business Administration quotes an increase in sales due to an electronic message center to be 15% to 150% We have experienced an increase in business and public visibility over and above our widest expectations.
I have customers who take their sign down or turn it off to clean or whatever reason and will tell me that their customers want to know why their sign is down, I think people really, really notice the signs. I was not really known in my area that well and now I go out in public say at McDonalds and people will say hey Rick i love this or that message on my sign. It is like I have been on television.