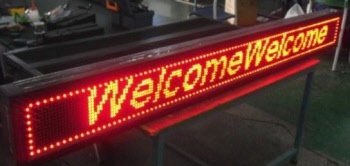 LESS™ LED Energy Saving Systems
Be the King of the LED Moving Window Sign Traffic!
How do you promote your specific events, update specials and communicate to the public. Get your message across in an inexpensive, eye-catching way with an affordable single,double or tri-color LED Electronic Moving Message display. Just plug in and run the software! Easy to operate, indoor led scrolling message signs have so many uses, you will constantly find new ways to utilize it. We carry an assortment of different shapes and sizes, several items are in stock ready for your use.
Program direct or wireless!